Congratulation to the pairs that have qualified through to the ACT Top 20 in the 2017 Open Doubles Event.
Click on following to download results from round 2 played over the weekend – 2017 Open Doubles – Round 2 Results
This weekend is the Top 20….. which is a double elimination knockout. Click on following link to view the draw and format for the weekend – 2017 Open Doubles Top 20 Draw

See below order of play, please check when you are playing and arrive 30 minutes prior to your scheduled time. All matches are at the Harmonie German Club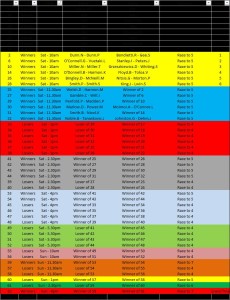 We will be using live scoring for each match this weekend. Pins for each match to access your match sheet will be provided when your match is called to play.